Réseaux sociaux: la censure ou la bavure? J'étais l'invité de l'émission Forum sur la Radio Télévision Suisse.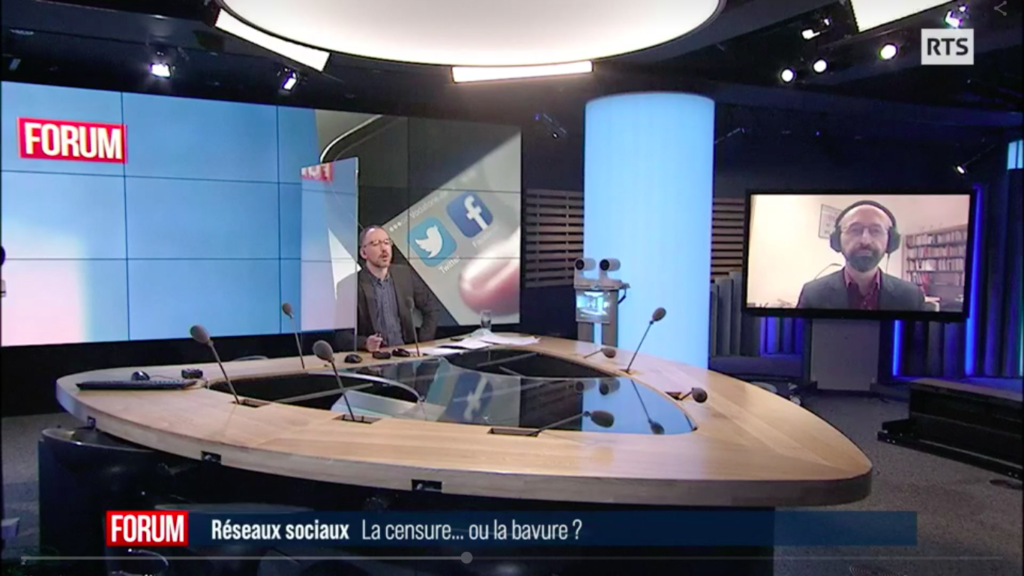 Dans Le Monde Diplomatique (plus précisément dans son bimestriel « Manière de voir »), Thibault Henneton se penche sur la vie et les conditions de travail des click-workers : évaluateurs, modérateurs, censeurs et parfois "petites mains" des campagnes politiques et du marketing viral. Mes travaux (ainsi que ceux de Sarah Roberts et Alain Supiot) y sont abondamment cités.
Les tâcherons du clic

Sur Internet, l'adage « si c'est gratuit, c'est que tu es le produit » devrait plutôt s'énoncer : « si c'est gratuit, c'est que tu travailles ». L'activité de chacun sur les réseaux en cache une autre, et les millions de petites mains qui l'exécutent.

Le 23 septembre 2017, Microsoft et Facebook célébraient la pose de Marea, un câble sous-marin long de 6 600 kilomètres entre Bilbao et l'État de Virginie, destiné notamment à soutenir le trafic en provenance et à destination de l'Europe. Que le premier réseau social du monde investisse dans une telle infrastructure prouve son désir de maîtriser les tuyaux. Quand bien même Facebook n'existerait plus comme réseau social, il continuerait à traiter des big data ! Mais son modèle économique impliquerait un travail très différent de la part de ses deux milliards d'utilisateurs que celui dont il profite aujourd'hui. Ce labeur, largement invisible, s'accomplit plus ou moins bénévolement dès connexion à la plate-forme. Chaque trimestre, Facebook en récolte en moyenne 4,75 dollars de profits publicitaires par tête.

Le terme digital labor désigne ces activités. Mal cerné par la traduction « travail numérique » — à ne pas confondre avec le travail informatique —, il a bénéficié d'un soudain coup de projecteur grâce à… l'élection de M. Donald Trump. Cherchant hors de ses frontières (de préférence dans l'est de l'Europe) les raisons d'un tel coup de théâtre, une partie de la presse occidentale s'est émue de l'existence de « fermes de contenus » à Saint-Pétersbourg, capables de produire, en anglais, des propos sulfureux sur l'immigration, la race ou le port d'armes. Celles-ci payaient ensuite Facebook pour mettre en valeur ces contenus dans les flux d'actualités de millions d'électeurs.

Dans le même temps, une ville de 55 000 habitants en Macédoine, Vélès, voyait bourgeonner une centaine de sites au service de la communication du candidat républicain. Leurs auteurs, décrits comme de jeunes entrepreneurs, plagiaient des sites d'informations avant de diffuser dans des groupes de militants leurs vrais faux articles derrière de vrais faux profils Facebook. Achetés quelques dizaines de centimes chacun, deux cents profils leur permettaient de drainer quantité d'internautes électrisés par la campagne. Grâce à AdSense, la (…)
(To be read at full speed, with frequent sniffings and a thick Žižek accent).
There's something quasi-paranoid about the fascination of contemporary commentators with Trump's hands, handshakes, hand gestures, and so on. Donald-Trump-the-Candidate, comes supplemented with a label of "short-fingered vulgarian" and a complete set of jokes equating small hands and assumed sexual inadequacies. Thus media interpret every mannerism as a way to overcompensate this Lacanian "objet petit p". For instance, Trump's supposedly inextricable alpha-male-ish 19-second-long handshake, to which Japan's Shinzo Abe succumbs, postulates the opposite of a "small object":
Furthermore, the handshake is often tantamount to a feudal "immixtio manuum" as a sign of submission of the Other, like in the commendation ceremony of Supreme Court's judge Neil Gorsuch:

But also, the hand can become a Deleuzian apparatus of capture, establishing a tie of protection and rent-seeking with a vassal state. This is what happened with the hand-holding routine performed with/upon UK's Theresa May:

Media themselves build up the myth of Trump's omnipotent handshake, because that allows for recurring "[random nation's leader] is the only one who was able to beat Trump" news stories. Case in point: Canada's Trudeau.

Despite the alleged uniqueness of the occurrence, this kind of news is the gift that keeps on giving. With infinite variations, like "[X won against Trump's handshake] because bullying is no match for intelligence", staging the comforting narrative of Reason triumphing over Brute Force–or rather the trite Nietzschean interplay of the Apollonian and Dionysian. France's Macron is exemplary of this stance:

But, as we established, the story perpetuates itself, obsessively, repetitively, hauntingly. Another variation: "Who's the biggest, baddest strongman? [X] is". Ask Tajikistan's president Emomalii Rahmon:
And, sometimes, this obsession can turn into desire—when the touch of the hand is actively requested, longed for and infinitely denied, like with Germany's Merkel:
Or, like in a distorting mirror, desire can manifest itself as a thwarted compulsion, as a Sisyphean struggle that turns the handshake into a fetishistic quest for human and spiritual junction. Like Melania's hand-swat…
..or like the spoof video of the Pope rebuffing Trump's hand.
Hegel remarks somewhere that all great world-historic facts repeat, so to speak, twice. He forgot to add: the first time as family drama, the second time as sitcom.